---
How were the winners decided?
Canstar's Pet Insurance Star Ratings use a unique ratings methodology that compares both price and features across a range of pet insurance products on Canstar's database, to find the ones that offer Aussie consumers outstanding value for money. Our researchers calculate scores to determine each eligible pet insurance product's Star Rating, based on a 50:50 split between price and features.
The price score for a product considers how much a hypothetical policyholder would likely pay in either monthly or annual premiums, and what excess they'd pay in the event of a claim.
The features score, on the other hand, is based on six categories:
the ease and accessibility of the application process
the payment process
the level of cover and inclusions
the availability of customer service
the claims-making process
the ease of the cancellation process.
Canstar's Outstanding Value Pet Insurance Awards are based on the Star Ratings, and recognize providers offering strong combinations of price and features via two types of pet insurance policies. The first of these is policies that offer cover for accidents and illness, and the second is policies that, in addition to accident and illness cover, also offer cover for several routine care procedures.
To be eligible for an Award in the Accident and Illness category, a pet insurance policy must provide cover for three or more of the following illnesses:
spinal conditions/intervertebral disc disease
hip dysplasia
cancer
ear/eye conditions (excluding cataracts)
skin conditions.
In addition to the above, to be eligible for an Award in the Accident and Illness with Routine Care category, a policy must also provide cover for:
teeth cleaning
desexing
microchipping
vaccination/health checks, and
controlling heartworm/heartworm testing.
This year, only policies that offer at least 70% of vet fees back or annual benefit cover of at least $4,000 were considered for the Awards.
2022 award-winning pet insurance providers
This year, four insurance providers won an Outstanding Value Award for their Accident and Illness Pet Insurance cover, while three were recognized for Pet Insurance with Routine Care.
Outstanding Value Accident and Illness Pet Insurance
The winners of the Outstanding Value Award for Accident and Illness cover were: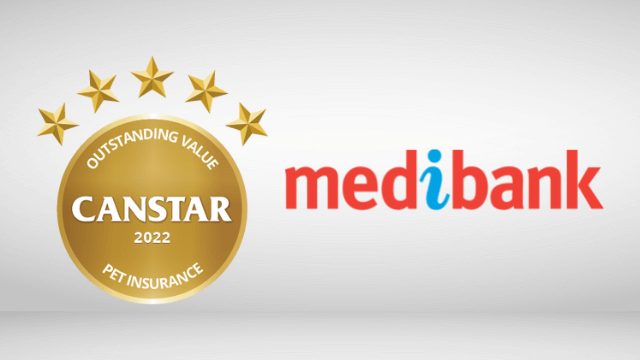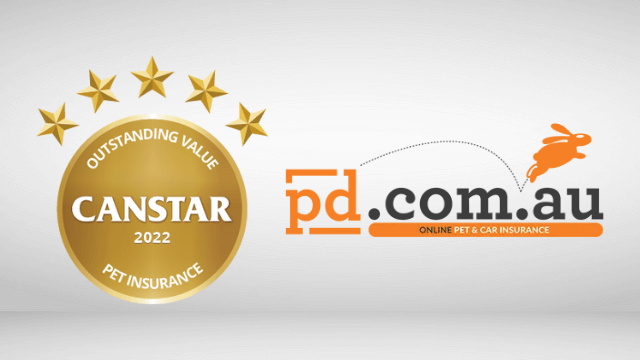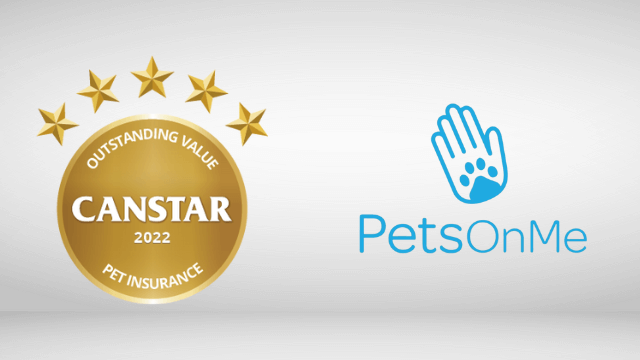 Of these four, Knose also received the Award in 2021, while the other providers are new entrants to the category.
Outstanding Value – Pet Insurance with Routine Care
The winners of the Outstanding Value Award for Pet Insurance with Routine Care were: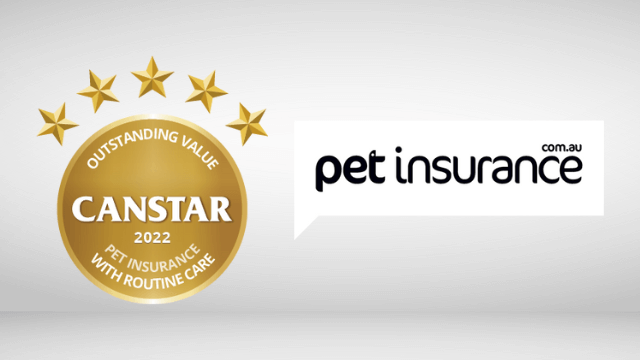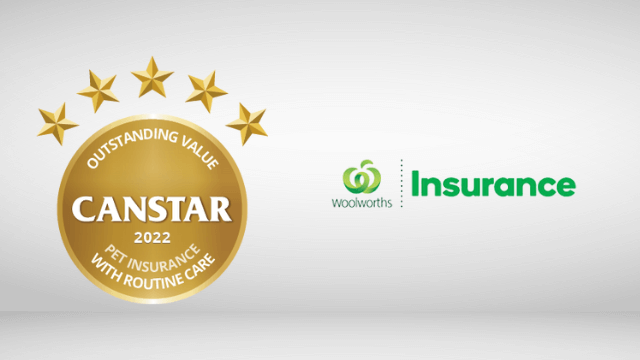 Petcover also claimed this award in 2021, while the others join it in this category in 2022.
For more information on how Canstar's Pet Insurance Star Ratings & Awards work, you can read the methodology. You can also view the full Star Ratings results.
Which pet insurance provider has the most satisfied customers in 2022?
Canstar also likes to hear from Aussie pet owners themselves about the things they most value and appreciate in a pet insurance provider. As part of our Most Satisfied Customers Award for 2022, we surveyed 812 pet insurance policyholders, with respondents asked to rate their satisfaction with various aspects of their experience with their insurance provider, including cost, communication, customer service, the claims experience, comprehensiveness of cover and value for money.
Of the pet insurance providers considered for the award, one stood out and scored highly across the board: Woolworths Insurance. Woolworths is a household name in Australia thanks to its supermarkets, but it is also an insurance provider in a number of areas, including pet insurance. It offers pet owners five different cover options, from a Basic Cover tier with an annual benefit limit of up to $5,000, through to a Comprehensive Plus Cover tier, with an annual benefit limit of up to $30,000. It even offers a specific Indoor Cat cover.
Woolworths Insurance says that 93% of its claims are processed in five days or less, and that it has paid out more than $35 million in benefits to pet owners. Its policies come with VetAssist, which allows customers to have a video call or online chat with a vet, for times when advice is needed and you're unsure if a trip to the vet is required.
What were the main drivers of satisfaction?
The results of our survey showed Woolworths Insurance performed well across the board with Australian pet owners. According to Canstar's research, its customers were especially satisfied with both the cost of the product and the value for money on offer, as well as the comprehensiveness of cover on offer.
For more information on how our Customer Satisfaction Awards work, you can read the methodology.
Compare pet insurance